Authorities launch a search operation after a baby girl named Harlow Darby Freeman is reported kidnapped in Walker County, Alabama. Help find Harlow and bring her home safely. Contact the Parrish Police Department or dial 911 if you have any information. Rewards offered.
Police Search
An urgent search is underway in Walker County, Alabama, following the reported kidnapping of a baby girl. The Alabama Law Enforcement Agency issued an Amber Alert at 9:40 p.m., seeking public assistance in locating the missing child identified as Harlow Darby Freeman.
Harlow, a young infant with brown hair and captivating blue eyes, was last seen wearing a tie-dye onesie and pink shorts. The kidnapping took place at approximately 6:50 p.m. on Monday at a residence situated on Crest Avenue in Parrish, according to information provided by the police.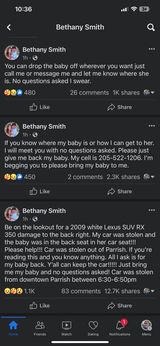 The distraught mother of Harlow took to Facebook, sharing the heart-wrenching details of the incident. She revealed that her daughter was snatched from her car seat in the back of a white 2009 Lexus RX350, bearing license plate number 3880AR8. The vehicle has distinctive damage on its rear passenger side and appears to be secured with clear tape.
Authorities have not disclosed specific details regarding the circumstances surrounding the abduction, leaving the community on edge. Harlow's aunt, Melinda Hutchison, spoke to reporters, recounting the events leading up to the kidnapping. According to her, the baby was inside the SUV with her father when he briefly entered a friend's house. He claimed to have been gone for just a minute, but during that short span of time, the SUV was stolen, and Harlow was taken.
In a desperate plea for her safe return, the family has announced a $5,000 reward. They are hoping that this incentive will encourage anyone with information to come forward and assist in reuniting them with Harlow.
The Parrish Police Department is urging anyone who has relevant information about the kidnapping or the whereabouts of Harlow Darby Freeman to contact them at 205-686-9991 or call 911 immediately. Every detail, no matter how insignificant it may seem, could be crucial in helping bring the baby girl back home safely.
The entire community is rallying together, holding onto hope that Harlow will be found unharmed. Please join the efforts to locate Harlow and spread awareness about this distressing situation. Together, we can make a difference and ensure the safe return of this precious child to her loving family.